DELHI
LONDON
---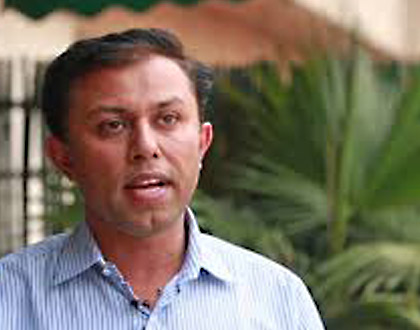 Sumit:
If you talk about emission sources… about 25 percent of PM2.5 (particulate pollution) comes from vehicles, 25 percent from biomass burning that mainly happens outside Delhi in rural kitchens or in agricultural fields. Then 30 percent comes from secondary particulates, these are formed by the gases like SO2, NOx and ammonia… the last 20 percent is contributed by refuse burning, road dust, construction dust and these other sources.
Sumit Sharma is the Associate Director of the Earth Science and Climate Division, TERI.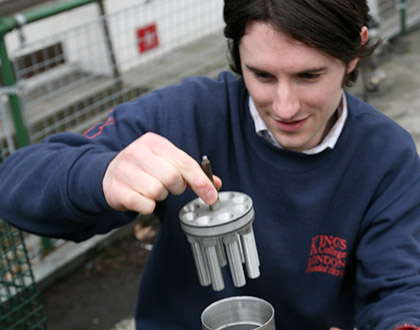 Andrew:
It was data from from the monitoring stations in the early 2000s that started to ring some alarm bells about nitrogen dioxide (NO2) not going down and, in fact, in some locations, going up… As time has gone on, those NO2 levels haven't fallen and, in fact, we've got NO2 levels in London that are two or three times higher than the UK limit.
Andrew Grieve runs the London Air Quality Network, and their network of about 100 monitoring stations in and around London. He realised, more than a decade ago, that the London emissions were creeping up (they are now nearly three times the UK limit).
---
Anumita:
There are studies now in Delhi, conducted by CPC itself, [where] they have [looked at] about 12,000 school children in 2012, and they have found that every third child has impaired lungs.
Anumita Roychowdhury is executive director for research and advocacy at the Centre for Science and Environment, who says that Delhi will have to reduce its air pollution by 74 per cent to meet air quality standards.
Andrew:
We did a study where we looked at the lung health of eight-year-olds growing up in Tower Hamlets and Hackney, over about a six-year period, to see if the Low Emissions Zone had had an effect… We didn't really see the effect year over year, but what we did see was a relationship between the annual pollution level where the child lived, and their lung health. On average the kids we tested had between 5 and 8 percent smaller lung capacity than they should have by that age, which will stay with them for life really. And that was quite eye opening and quite sad.
---
Sumit:
There are things which you can do immediately, for example, enhancement of public transport… there is demand (for) more and more buses on the roads of Delhi, which has not been met… More buses can make people shift to public transportation… State government is expanding the metro network and ridership in the metro is expected to go up… Control on construction dust, control on road dust. All these things can be controlled on an immediate basis.

But there are a few things which are going to take some time. For example, biomass burning… for rural kitchens there is a big LPG (liquified petroleum gas) programme… but it's also an economic problem because for them it is an expensive fuel in comparison to what they are using right now, that's firewood. Similarly agricultural biomass burning, there is a ban on agricultural biomass burning but then farmers have little option… People are talking about converting these residuals into energy and using them in power plants but then all these things will require infrastructure for collection, for storage and then processing so all this is going to take some time.

The ministry of transport is also considering a fleet modernisation programme by which they would like to phase out the older vehicles and replace them. Then a number of fuel efficiency standards have been introduced for cars and for trucks and that should also help. Emission allowances for power plants have also been introduced.
Andrew:
Car ownership and driving is on the way down, use of the tube and buses is up and walking and cycling is up. But the problem, because London is growing … is that the tube and the bus system is at capacity essentially, so the only place left, without building new infrastructure, is to encourage people to walk and cycle more. Which is great but, if you're going to encourage walking and cycling, try not to put people next to traffic.
---
Anumita:
The ranking changes because of where you live. Suppose someone is burning waste right in front of your house and, even if it's 2 per cent of the city-wide problem, it's a big problem for you. Similarly with vehicles… when you live within 500 metres of the road, then your personal exposure to the vehicle pollutants are much higher than the power plant pollution. Therefore, the health ministry [has] said: control pollution where it is happening in close proximity to the people.
Andrew:
The modelling team did a range of scenarios for the think tank IPPR, who commissioned them to do a big report on air quality in London and what we need to do to reach compliance. And there were massive things in there like completely banning diesel and totally changing all the taxis to electric. Even under some of those scenarios there were still some roads in central London that were above the limit.
---
Sumit:
Public transportation is the key. We suggested to put up a condition pricing scheme in Delhi, at least in specific zones, what that would do is ask high polluting vehicles to pay for their movement in the city and the revenues collected from this scheme can be used for enhancement of public transport.

We need to put a price on the biomass which is being burnt. So farmers are burning because they're finding it expensive to cut, store and send it somewhere. So we need to give them some price so they can cut it and transport it to a facility where this can be converted into fuel, which is like briquettes or pellets biomass based fuel which can be used in industry or can be used in local restaurants or houses where people are already burning wood.

The third thing is industries. We need to put standards for sulphur and nitrogen dioxide (SO2 and NOx) control in industry. You'll be surprised to know we don't have a standard for many industries for control of SO2 and NOx, so we need to make the standard available and enforce them with stringency on all industries.
Andrew:
London is pretty well served for parks but the mayor did announce, a couple of weeks ago, that he wants to expand the amount of green spaces in London … which is really encouraging. But the other thing I'd love to see is green corridors [as] ways of getting from one bit to another. Many years ago I … collaborated on a really interesting art project with an artist from Goldsmiths College. She said: 'I would love the deer in Richmond park to be able to walk up to my house in Hackney through green corridors that connect places in the city together.' I think that's a really lovely image of what the future could be…
---
Anumita:
How do you break that barrier from the policy to implementation: that's where we all are today? I think we will certainly be able to do that, especially knowing that we have a better opportunity to do that [knowing that] the cars you see crowding on the road meet only 15 per cent of the travel demand… Now, as a public policy, where we are making the mistake is that, often, you will find that 80 per cent of the transport budget goes on that 15 per cent. Whereas the opposite has to happen… Focus more on the 85 per cent. That's where the opportunity is.
Sumit:
We have a vision for a cleaner India… It's not a problem of Delhi alone, if you see the whole Indo-Gangetic plain it is covered with heavy pollution. Because the whole area is high emission intensity and also filled with population and agricultural activity. So what we're trying to say is that you make clean air a priority through a clean air mission… in which targets are set for achieving air quality and also for reducing emissions. Otherwise if we only deal with cities and a lot of pollution is coming from outside the cities then we will never be able to achieve our air quality standards.
Anumita:
We have focused more and more on widening the roads, [or] removing signals to build flyovers so vehicles get the priority for seamless movement and for speed. We do not allow people to cross where they need to cross, we barricade them and then we push them to climb over a footbridge… So what is my city telling me? It is saying: I am making your city convenient for you to travel in a car but not convenient to take a bus or a metro. I'm constantly getting that message from my city [and] the way it is designed.
Anumita:
Think of central London, which has got very high street density. You don't have these big arterial roads in the middle of London which makes the city so walkable and accessible. But here [in Delhi] … the new urban planning is that you make a super block of one kilometre, [or] two kilometres… But with the wrong urban design, we're increasing distances because you're sprawling out and more distance you create by design, you're forcing people to get motorised… It is the urban design and road design which is forcing you to be dependent on your car and that has to stop. You [can] give people a good sense of how liveable the city becomes, how enjoyable, if you give them a good footpath – a wide footpath where you can just walk with your friends or a good public space so you don't have to go to a mall to hang out with your friends.