DELHI
LONDON
---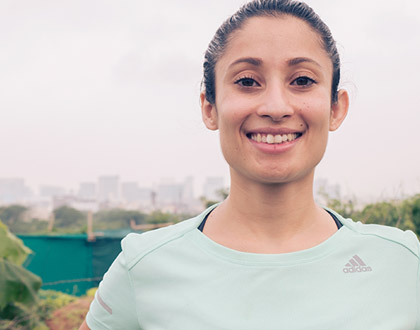 Nivedita
There are these scary studies, that say being outdoors and running for 15 minutes is like smoking a pack of cigarettes in a day. So I don't know really, I just know I feel more tired after my long runs in the winter. It's a different kind of tiredness, it's almost, you know, your insides hurt… I remember last Diwali. You know the buildings there, I live close to that. I couldn't see the building next to my house because of the smog.. it was crazy, you woke up, you walked out onto your balcony and you couldn't see the neighbouring building.
Nivedita Samanta is a serious marathon runner with professional sponsorship. She can run outside in summer but in winter, as the smog worsens, she is mostly confined to running on a treadmill. She says greatly expanded, affordable and good quality public transport would allow people to switch from cars and clear the air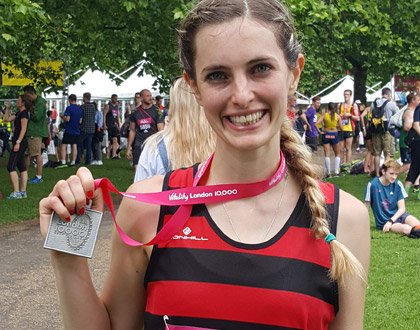 Pippa
I grew up in Watford, so not that far away from London, but I grew out of my asthma, went to university in Edinburgh, still did sport, still did my running. Then I came to London and tried to run around the local park, Wandsworth Common, and I could barely get round without having an asthma attack. It got so bad that I was really struggling to run any distance further than 5kms, and I had to take my inhaler every time I was running, if not more than once.
Pippa Messenger works in flood protection. She is also a runner with Herne Hill Harriers, and found that – when she moved to London a few years ago – her asthma got worse and her running became more difficult too.
---
Nirmal
I think a lot of it came up last year because of Diwali. Everybody was walking around with a cough. You could see people visually taking deeper breaths. Normally, you don't think about breathing. Every now and then people were just stopping and taking the trouble to take a deep breath. But what you're taking in is actually more toxic…
The monsoon is beloved in India, so ideally you'd drive with the windows down so you can let the air through. But everybody's got their aircon on, even in winter, so that's a good marker. Nobody wants the air in their vicinity, at all. It sucks.
Nirmal Kaur is a Sikh from Bangalore. She studied in Delhi, and has now worked in Delhi for two years. The air quality has had an impact on her because she has given up playing hockey as a result. She rides a motorbike and would like to cycle, but the roads are too dangerous.
Pippa
When you get the high alerts of high pollution that does put you off [running] a little bit and I do think about going on alternative routes wherever I can, when I go on my long runs I try to take in the parks, (a.) because its more enjoyable, but (b.) because you don't get so many cars as well, so that does help. It doesn't necessarily change what you do but it makes you think about it more.
---
Nivedita
We have air purifiers on, at home, all the time in the winter. When I say winter, you know it's really early November until about February because that's when the smog starts getting worse.

I do take anti-histamines in the summer occasionally but that's usually when there's pollen in the air or something like that, but in the winter I need to take one every day. Even now, in spite of taking anti-histamines in the winter, you know, skin just breaks out and we just feel sick throughout the day. It's almost like you're coughing dirt out.
Pippa
I work next to London Bridge and they've completely shut off Tooley Street on one half so it's much, much reduced in terms of traffic anyway, and you've got bike lanes and things like that and it's much better, and my office is next to the river so there's a bit of space for breathing. So actually, I don't think I've had to take my inhaler when I'm at work, [or] if I've gone for a run at lunch time, you don't have to do it quite as much then. But at the same time, it's quite near Borough High Street … which is quite a thoroughfare, so if you get stuck behind one of the buses, it's just like [coughs]… I think, if you can get cars away from the places most people walk in, it's going to immediately improve an … area.
---
Nivedita
When I was working full time… it would take up to an hour and a half to just drive (to work) and most people consider this driving against the traffic… So I started taking the metro, luckily I had a direct line and it would take me 45 minutes, that included my walk to the metro station on both sides, so it was very convenient…
you had air conditioning. You've still got space to stand and it's convenient to have women's only carriages – the first carriage is for women only so you feel comfortable enough, no one is going to grope you or anything.
Nirmal
I wish I could cycle. We even discussed and said that we could make that room into a changing room. In this place, we have one, but I can't cycle and even if I was brave enough to get on [a bike], people drive like such monkeys, it's just not worth it. One is to die, the other is just to be left on the side of the road smashed. It's not nice and, if that means I'm contributing to air pollution, I'll go for it. I'll live.
Nivedita
I think we're going to have really good public transportation where people won't need to take cars to travel anywhere, it's going to be so well connected that everybody will want to take it. Twenty years down the line, maybe there won't be such a disparity of income in a country like India, where the rich (will) feel comfortable enough to mix with the poor and there won't be that many poor people, if I'm being overtly optimistic, so everybody could afford to use public transportation.

We have places with trails. I think we need to preserve areas like this for the future, for kids to know what it is to have trees and wild animals, and snakes and scorpions and things like that. I think twenty years down the line we'll have blue skies because most of it will run on electricity. Move to solar power or something.
Nirmal
There's a metro station five minutes walking from my house and here at work… Honestly, if it was a clean road I'd walk it. I want to walk. If India could be more pedestrian-friendly, I'd walk three or four kilometres a day. Not a problem. I actually find it stupid that we go to gyms, in an air-conditioned car, so we can work out, but we will not walk up two flights of steps. And we will definitely not do any household work because that's just meant for servants… I don't want to have to make time for exercise. But I can't do it, so when I travel, I walk everywhere. It's only here that I don't… We just don't have pedestrian-friendly walkways, or spaces and two, there's pollution and there's dirt and by the time you get back home, you definitely can't walk to the office.
Pippa
My asthma got significantly worse in London. You don't see the air quality, you don't necessarily know it's bad just by looking – it's not like smog. And I think we get warnings like when there's particular spikes in air quality asthmatics shouldn't do exercise outside and, for a runner, that's just rubbish…